From 2011 to 2013 I wrote hundreds of articles, live-tweeted, interviewed superstars and got my hands dirty by writing code. I look back on that work with fond memories, and I hope that you can get a sense of my work through the below samples.

NAVIGATION:
Projects
Moments
Writing Samples

The Timberwolves have developed a recent reputation as a team that produces funny videos involving our players. I came up with an idea for a fan beard contest, executed through social media, that would be judged by bearded players Nikola Pekovic and Kevin Love.

We got a good number of submissions through Facebook and Twitter; Twitter users used the hashtag "#twolvesbeardoff" to enter. In the end, we chose five finalists out of over 50 submissions.

I contacted MJ of the Minneapolis Beard and Moustache Club to join me in the video shoot. Pek and Love provided jokes while MJ brought some expert analysis. I was very happy with how the video turned out, and I was even more pleased to see it linked on NBA.com.

MY RESPONSIBILITIES: Concept design, graphic design, writing, social media

EXTRA HELP FROM...
SAM: Graphic design on the main page module
DAVID: Video shooting and editing
PR DEPT: Coordination with Pekovic and Love

The "#VOTETWOLVES WALLPAPER CONTEST" was an idea that I hatched and released in less than two days. The aim of the contest was to generate buzz for our three players that were eligible for All-Star voting; I decided to do this through an interactive design contest. Participants were given six high-resolution images to choose from along with an All-Star game logo. The only requirements for entry were the inclusion of at least one player photo, the game logo, and an incorporation of the "VOTETWOLVES" Twitter trending topic. I wanted to really let the creativity flow with this contest.

I came to our graphic designer with a sketch of our three players that were eligible for All-Star voting, and he quickly whipped up a flag logo with a grid-style image. From there our web developer placed hot spot download links on each numbered image.

MY RESPONSIBILITIES: Concept design, writing, social media

EXTRA HELP FROM...
SAM: Graphic design
SCOTT: Web implementation, direction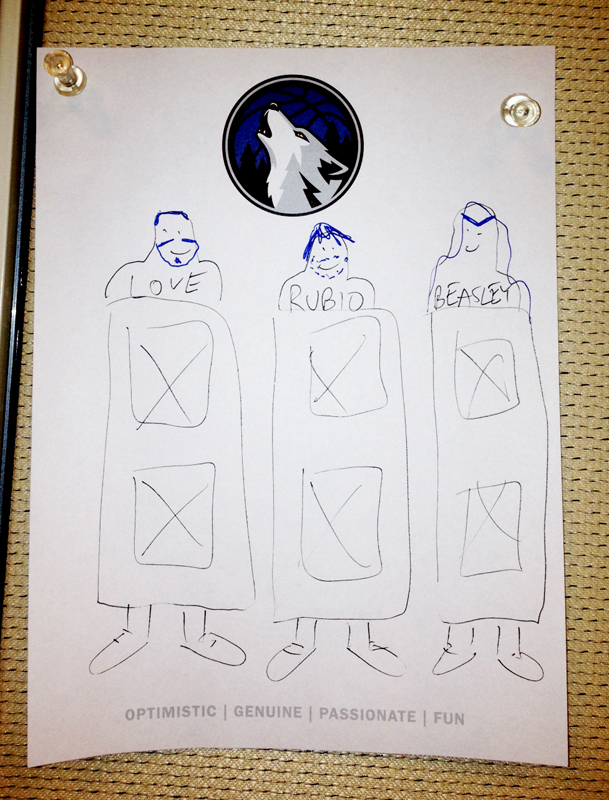 KEVIN LOVE MVP CAMPAIGN / DOODLE.LY COLLABORATION: Debuted on Facebook in April 2012
I connected with Darren Paul, a representative for Doodle.ly, in March 2012. Paul was trying to find another sports team to collaborate with his new client on a contest, and we quickly agreed that this could be a lot of fun.

Doodle.ly designed a Facebook app that integrated smoothly on our page; after a week of entries, we selected the best five and had Kevin autograph them.

See the contest write-up below:

"The Timberwolves and Doodle.ly have teamed up to provide fans with a new contest to help support Kevin Love's NBA MVP campaign. Use the fun, new "social sketchpad" to doodle your best Kevin Love rendition; add the hashtag #KLOVEMVP" in the sketch title to be considered for one of our prizes. The Doodle.ly app can be used on a web browser or on an iPad. As Doodle.ly wants to "make the world a more creative place," the Timberwolves want fans to be able to have fun drawing their best Kevin sketch while entering for some fun prizes.

"At the conclusion of the contest, the top five sketches will be chosen, printed, and autographed by Kevin Love himself. The top two entries will receive free tickets to the Wolves' 4/17 contest hosting the Memphis Grizzlies!"
MY RESPONSIBILITIES: Art direction, conceptualization

EXTRA HELP FROM...
DARREN PAUL: Direction, planning
DOODLE.LY: collaboration, design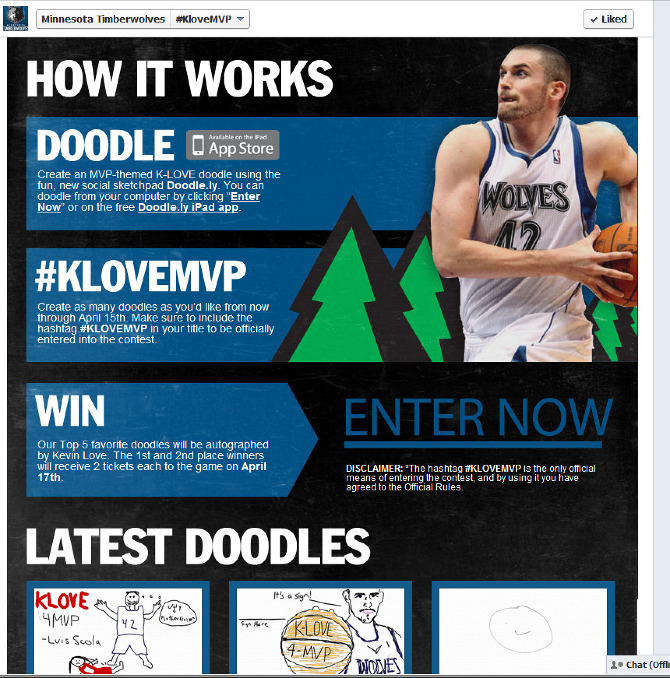 "POP"TIONARY FACEBOOK PROMO (AMONG OTHERS): Facebook, September 2012

I love doing graphic design projects, because I am always in the mood to exercise some visual creativity. One fun thing midway through my time at the Wolves was when I began designing and implementing Facebook tab advertisements for sponsors. We did work for Boomchickapop, Explore Minnesota, Degree and more.
For this April 2012 collaboration with the Corporate Sales department, I laid out another Facebook tab that was fun, sleek, and interactive. Fans were encouraged to guess the answer to the clues on the chalkboard (the example below is "whole grain") and to submit their answer with the form. Winners were entered in a drawing to win a great prize package.

MY RESPONSIBILITIES:
Graphic design
Facebook implementation
Copywriting

EXTRA HELP FROM:
ALEXANDRA: Social media updates
JENN: Corporate sales partner